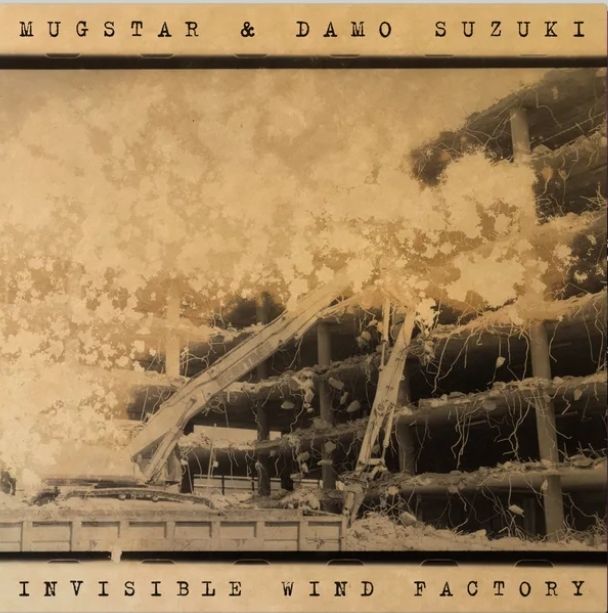 Live at Invisible Wind Factory (41:50)
Damo Suzuki with Mugstar: Steve Ashton (Drums), Marc Glaysher (Bass), Joe Hirons (Guitar, Keyboards), Luke Mawdsley (Guitar) and Neil Murphy (Guitar)
Recorded April 28 2018
Recorded live at The Invisible Wind Factory, Liverpool 2018.
Ltd to 500 copies.
300 on random eco vinyl (picture is not representative & the colours truly are random) and 200 on grape with black splatter, these are only available from us.
All copies come with an insert, the first 50 of which are hand numbered.
This item is a pre-order & we expect to start shipping around the 31st July.
Mail order https://theweirdbeard.bigcartel.com
Back in those distant days of live music in packed, sweaty rooms I remember attending this concert with fellow Terrascope scribe, the illustrious Ian Fraser who if I remember rightly enjoyed or perhaps more accurately endured a lengthy and unexpectedly confusing taxi ride across Liverpool that nearly made him late for it (I'm sure his autobiography will explain more about this adventure at some point).
Part of the 2018 Wrong Festival at Liverpool's Invisible Wind Factory (any schoolboy humour will be punished, or at least punned) and other nearby venues, this set was one of the absolute highlights of a fine day of psychedelic rock.
Mugstar and Damo are no strangers to each other having shared a stage and recordings before this gig and their mutual pleasure in working with each other is clear to see and hear. It's a pretty impressive marriage between Mugstar, one of the most interesting bands working today in the field of inventive and exploratory psych and space rock and one of the most iconic vocalists in the history of Krautrock who still crams in an eclectic and busy worldwide schedule of collaboration and free improvisation projects.
Weird Beard have generously provided us with the chance to relive the full forty or so minutes of a dynamic and memorable set, a wide ranging improvisation taking in many diverse twists and turns on its path. Underpinned by a solid yet varied rhythmic platform, Mugstar create a musical canvas where light and shade is created through guitars that shimmer and soar, compelling and memorable riffs that propel where needed and feed melodic ideas providing texture, colour and contrast.
There are generous servings of driving motorik, touches of desolate spaghetti western landscapes, flashbacks to echoing and tense early eighties psychedelia tinged new wave and Stooge-like energetic and exhilarating solos and riff fuelled sprints which come and go through the set keeping it varied, unpredictable and most importantly exciting.
Using this canvas, Damo Suzuki treats us to his full array of vocal talents, sometimes leading the music to new places and sometimes responding to the challenge set by Mugstar. At times harking back to the wailing improvisatory style of his Can days, sometimes growling like Tom Waits and then crooning like Scott Walker (or even Ian McCullough) at his most desolate and experimental, Damo's chameleon like and indeed unique approach to singing is demonstrated at its very best here.
You can see some good videos of this set on YouTube but there is something to be said for letting the audio pleasures on offer speak for themselves. I really enjoyed the set as a punter but this well recorded vinyl time capsule is already offering up some new delights unheard in the general hubbub of the crowd on the night and is pretty much essential listening for any fans of Mugstar, Damo or indeed of high quality and inventive improvised or psychedelic rock.
Strongly recommended for your audio pleasure.
(Francis Comyn)