Damo Suzuki with Lapis Lazuli
https://www.ramsgatemusichall.com
Nice thing for Alan is he doesn't switch on radio to listen any music. I said him he can put as driving without music may bore or not good to concentrate driving. He knows I'm not familiar to listen music, it's somehow disturbing my creativity. But, he is our captain, he can drive comfortably, and I don't mind he puts music. Then I automatically shout my ears.
We reached Ramsgate earlier than we planed but a bit late for Lunch. I wished to bring nice restaurant for first UK visitor Hayashi. Since he's in UK he didn't eat anything remarkable. It may not much course him as he is first time here, even so he seems to be enjoying, every single small founding is worth for his travel. Eat at motorway restaurant is almost punishment. So, I thought finally I could bring him to reasonable fish restaurant or something here.
I was here this small port town once, so I know some places, we tried to set ourselves in a fish restaurant. Unfortunately they closed kitchen at this time. Place like here just waterfront, I like to have fish, nothing else. We went to Greek restaurant next door. Unfortunately, they don't have fish dish we expected, but at this time of the day it's not easy to have something you want to have even if in larger city. Sorry to Hayashi that I didn't bring him to one good restaurant. He have to leave UK tomorrow.
It's a small venue, up stair is pub also merchandising space. I know already some faces from last time, some speak with me, some keep distance, but eyes on me. I met few old friends.
Lapis Lazuli is young improve band I remind of Electric Octopus from Belfast. Like return of hippie time me again.
They recorded show and recently released this CD: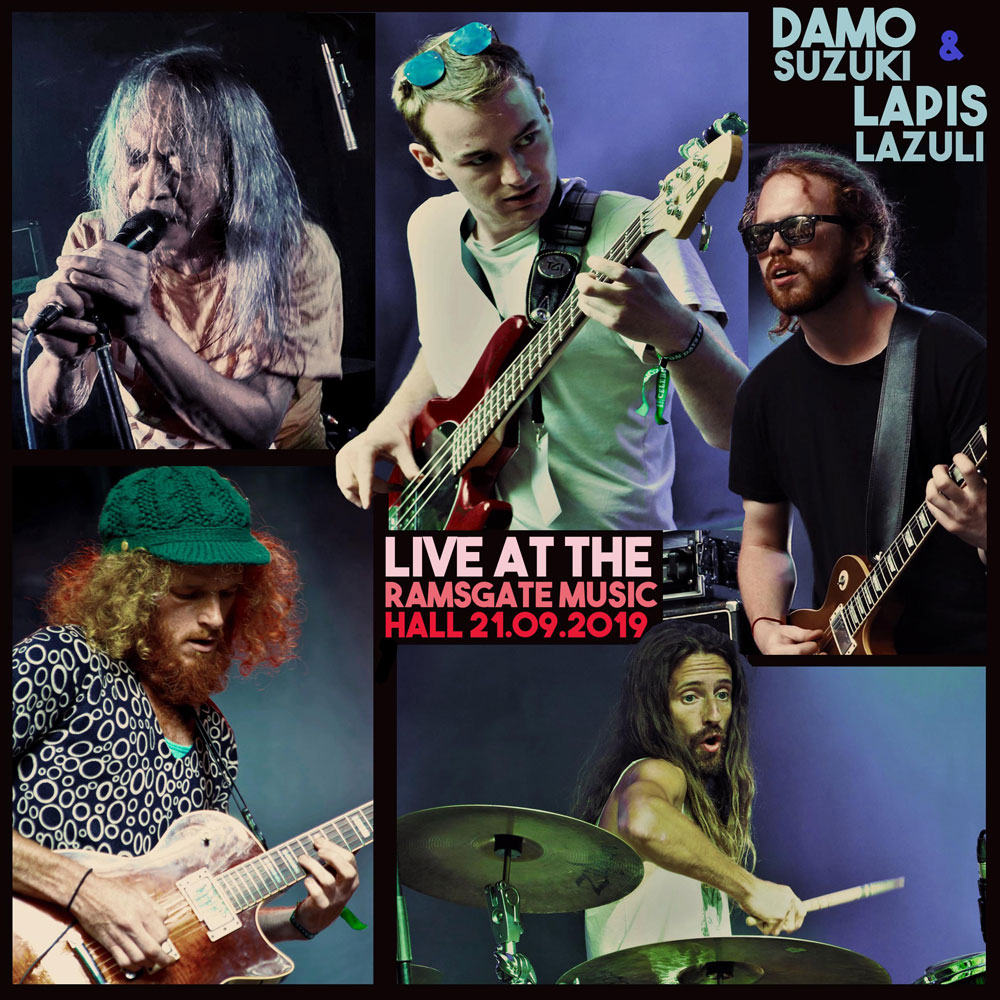 The entire unedited improvised set from Damo Suzuki and Canterbury unsigned act Lapis Lazuli. This double-disc album signifies the 6th release by the Canterbury band, and represents one of the kaleidoscope shows Damo played as part of his 2019 tour.
The second disc to the album is titled using an anagram of 'damo suzuki lapis lazuli'; 'Louis Padilla's Muzak Uzi', – a collection of jams recorded and mixed leading up to the live concert. This disc does not include Damo at all, as the band's one and only encounter with him was at the show!
The album was mixed live and recorded by Ramsgate Music Hall's in-house engineer Al Harle, and mixed / mastered by Lapis' Neil Sullivan.
Release date: 31st January 2020
Mail Order: lapislazulithebanduk@gmail.com
This is last night for Hayashi.
He brought Champaign that he'd got from a stewardess in plane, excuse for something, I forgot.
He wanted farewell drink. Kan-Pai!, Cheers!, Skool!, Prosit!, Nastrovia! What so ever.
He said he had good time even it was so short, he is happy that he travels not like usual tourists, enjoy every three concerts with in three different cities, three different formations, three different music. Still we three walk around this small town, small snacks to eat, late in the night.
Hayashi have to take train early in the morning to get flight back to Japan that departure time is early afternoon.
After departure in Japan two days later, he reported me he enjoyed oyster bar at Heathrow that I recommended. Finally he has got something better healthy food.
Indeed, oyster in England is really good, has tradition like former capital city (for short) Colchester! They have tradition since Roman Empire time. Jersey, Weymouth, etc….
Live Documentation :
https://www.youtube.com/watch?v=dVUPVhQ6wfo
https://www.youtube.com/watch?v=ETmEJZPckKI
https://www.facebook.com/Lapislazulitheband/videos/1576556389135458/