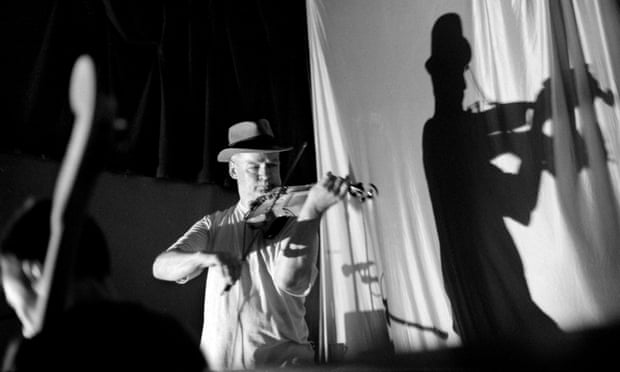 A couple of years, I didn't perform in NYC, I met friends again, a night before I performed in Monkey Town, Brooklyn.
October 29 2007 was fantastic day. Seems to be I had one of most fantastic concert with members of Akron Family, Oneida and some other sound carriers. I don't know who arranged "special guest" this fantastic artist Tony Conrad, honestly he made my day. I knew his name from my former girlfriend, she was good friend of Tony. I met Tony for first time and also this was last time. But, what he left me is enormous energy. The show was well visited when Tony open the event, mainly young filled audience sat on floor and really into music Tony created from very first tune, endless violin with a lots of energy which shakes whole universe. I was astonished also I was so happy to hear his act from upstairs of lovely Knitting Factory. For me it was enough to hear into Tony's energy for 20 minutes, I wasn't board, just so happy to experience his universe and happy to be within it, was endless wide, deep what I can say it was compact universe, more than music, it was energy pure which never let audience leave, it just fasten audience there, no chance to get anywhere.
Still, I left 20 minutes and went to dressing room, for such amazing act even no body was hanging around in backstage or anywhere else, all ears are at Tony's incredible violin universe. I opened a bottle of Whisky that my friend gave me as a-well-come-back-in-NYC gift. You know I was more than good feeling from music comes from downstairs. I was alone in backstage room, but I felt not alone the music was caught me hug my body, I drink whisky as if I'm drinking water, Then I after I almost couldn't remember anything, even I thought I didn't went on stage, even I didn't made concert. It took 2,3 days that I was sure I had concert with excellent sound carriers from NYC when I found mails in my mail box saying, "it was an amazing concert…." And many compliment. Then I felt good I was sure I've done show. Nobody was telling me I was too much drunken or similar words for embarrassing
It was really strange day that Tony opened the event. There is some happening you never forget in your life, occasionally it turns back. This day was one of such day. I met an amazing "universe" artist named Tony Conrad. It was very magical night. This universal artist left us on April 9th 2016. But, this day I met Tony and experienced his universe will stay in my memory forever. We lost true "universal" artist.
(Damo Suzuki on April 20 2016 )