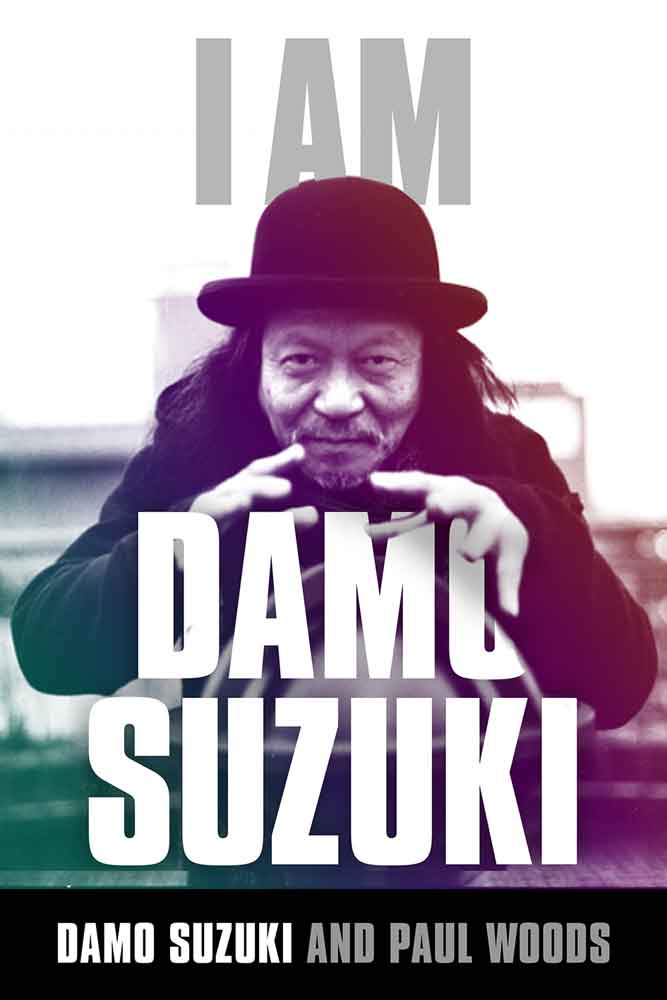 I Am Damo Suzuki
By Damo Suzuki and Paul Woods
Published 28th March
Omnibus Press
Pre-order HERE

ISBN: 9781783059713
Book reading tour announced
Live dates added
Damo Suzuki has been described as a 'free music legend' who first came to prominence as lead singer of the visionary German group Can. Published by Omnibus Press on March 28th, I Am Damo Suzuki by Damo Suzuki and Paul Woods tells Damo's story from Japan to Germany and everything in between in Damo's own words. Complemented by interviews with family, friends and collaborators, the book spans six decades of pop culture.
Damo Suzuki was born Kenji Suzuki in the outskirts of Tokyo in 1950. Leaving home one day after his 18th birthday to travel to Europe, Damo recently told Mojo magazine that his original plan was "to become a cartoonist, someone who draws comics". Arriving in Sweden, he busked around Europe and earned money as a pavement artist, before settling in Munich in 1970 to appear in the musical Hair for 3 months. It was here that someone first recognised he had musical talent, and it was at the end of this time that he (by chance) met the members of Can, an event that set his life on a different trajectory.
Now a permanent resident of Cologne, whose business card reads 'metaphysical transporter', Damo explains his motivation to record his life now: "The main point of this whole book is my philosophy and dreams. My time here is becoming less and less. In a way I am strong. I survived major surgery, I've lived as a young adult in a foreign country (where) many times I wasn't supported by any kind of institution, but I survived. I have found the strongest way to seek truth now."
Co-written with author Paul Woods, whose previous titles include The Curious Life and Work of Scott Walker (Omnibus Press) and who regularly writes on subjects including pop culture and criminal history, I Am Damo Suzuki is an honest and often startling odyssey that tells the full tale of a musical enigma.
Hear Damo Suzuki in conversation (https://www.roughtrade.com/regions) here:
March
Monday 25th Rough Trade East, London E1 6QL
Tuesday 26th Rough Trade, Nottingham NG1 3AJ
Thursday 28th Rough Trade, Bristol BS1 2QD
Damo will play the following live dates:
March
Sunday 17th The Lexington London
Tuesday 19th The Hare and Hounds,Birmingham
Thursday 21st Jericho, Oxford
Saturday 23rd St Mary's Music Hall, Walthamstow, London
Sunday 24th The Windmill, Brixton, London
Friday 29th The Socialist Club, Dewsbury
Saturday 30th The Continental, Preston
April
Saturday 5th The Laugharne Weekend, Langharne, Wales
All ticket info: https://www.damosuzuki.com/