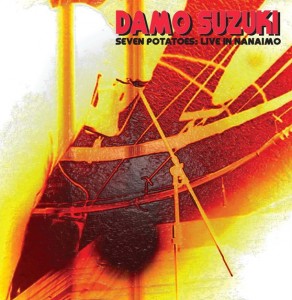 Krautrock pioneer Damo Suzuki, vocalist of Can, has influenced generations of creative musicians. This enigmatic singer has continued the journey, traveling the globe to perform improvised music with a unique collection of musicians. The lucky few that perform with him he calls his Network or Sound Carriers. Canadian Sound Carriers have included members of Black Mountain, Broken Social Scene and Do Make Say Think, among many others.
On a warm night in June he set down in Nanaimo, BC for an epic night of long heavy space rock jams in front of a rabid sold-out crowd at the historic Globe Hotel. The result is a sprawling, transcendent, seamless soundscape. Damo's vocalizing feeds off the energy and dynamics of the band. A strangely hypnotic and melodic repetition of phrases and countered with low gutteral growls delivered in his own language. The legacy of Can is always evident. The auditory capture was superb and the result obvious. It must be shared. David Read of Vinyl Record Guru immediately decided to release it as a co-production of NoiseAgonyMayhem Records and Lance Rock Records.
"The title, Seven Potatoes, is Damo's translation of Nanaimo in Japanese," Read explained. "The release date is timed for Damo's return to Nanaimo on May 11, 2014 at St. Andrew's Heritage Church in the Old City Quarter."
The recording captures Damo's memorable performance last June with a psychedelic rock orchestra assembled from Nanaimo's thriving independent music scene featuring members of Clumsy Lovers, Colliding Canyons, Moths & Locusts, and Wolf Parade. Two synth stations, fuzzed-out guitars and three drummers coalesce behind Damo's commanding presence.
The physical edition of Seven Potatoes is available on extremely limited beautiful black vinyl records and can be ordered via Bandcamp (http://sevenpotatoes.bandcamp.com).
To see some footage from the 2013 show check out the appropriately lengthy promotional video:

Media contact:
david@vinylrecordguru.com