High School Pharmacy!!!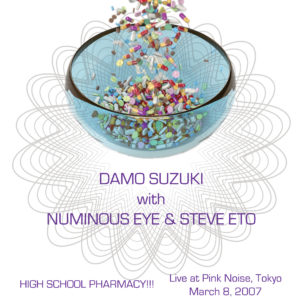 Damo Suzuki with Numinous Eye & Steve Eto
Back in the spring of 2007, Numinous Eye – Mason Jones & Mike Shoun – had a short tour of Japan planned. All the shows were booked and plane tickets purchased. Then they discovered that Damo Suzuki, vocalist from the infamous band Can, was visiting Japan around the same time, and he was free to play on March 8 the date they would be arriving in Japan! It was providence, so it was arranged for them to play together, and Damo invited percussionist Steve Eto as well.
Playing an improvised show, with no planning ahead of time, after a transcontinental flight, was probably not wise, but it was psychedelic. And it was great. After a sparse opening piece, Mike and Steve were locked in on drums and percussion, Damo was flowing, and Mason found ways to wind the guitar into it all.
This album is an edited sampling from the show, including the opening piece, the ending piece, and a portion from the middle. It covers the calm, the heavy, and the experimental aspects. Damo provided the appropriately wild album and song titles.
The players: Damo Suzuki (vocals), Steve Eto (percussion), Mason Jones (guitar), Mike Shoun (drums). Damo, of course, is known for his time with Can, as well as the ongoing Damo's Network series of improvised live shows around the world. Steve Eto has played with bands such as Demi Semi Quaver, Pugs, Pink, and more. Mason Jones was a guitarist in SubArachnoid Space, now leads Numinous Eye, plays with Collision Stories, and performs solo and in collaboration with numerous others. Mike Shoun has played drums with Thee Oh Sees, Numinous Eye, and others, and currently plays with Peacers.
Side A: Orange Moon Alphabet Hotel (07:00) Camereon Days (08:40) Side B: Fasten My Soul on a Rain Drop (13:49)
LP on black vinyl, limited to 300 copies, with Bandcamp download card included. Charnel Music, Catalog No. CMLP-1
Mail Order : masonjones@charnel.com
Charnel Music : P.O. Box 12308, San Francisco, CA 94112 www.charnel.com